It is with great regret that we inform everyone that the remaining portion of the tournament has been canceled due to extreme weather.
We will be in further communication with teams about moving forward in the future. We hope all teams, officials, and volunteers have a safe journey home.
  Game Recaps and Highlights
The brackets are set! Check out who's vying for the chance to be crowned champion!
Unified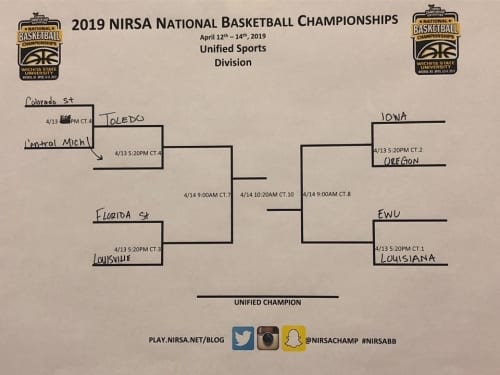 Men's Club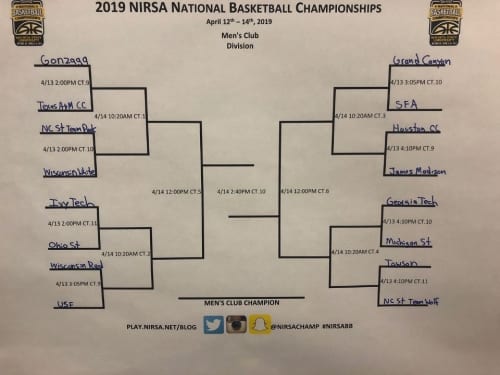 Women's Club
[…]
  Game Recaps and Highlights
The last hour of games saw the women's finalists decided [...]
The last set of quarterfinals in the Men's Division are [...]
The 2018 NIRSA National Flag Football Championship renewed this afternoon [...]
The playoff and open games continued during the 10:30am time [...]
There's a bite in the air this morning as we [...]
It's a beautiful Saturday morning here in Pensacola, and the [...]
With the draw firmly behind the tournament, it iss now [...]
The time has come for the playoff draws!  Everyone has [...]
As the sun set over the horizon at Ashton Brosnaham [...]
The afternoon is rolling along, with the temperatures holding steady [...]
The brackets are set! Check out who's vying for the [...]
My, oh my! What an end to pool play! The [...]
Looking to watch the championship games as they happen?  Wichita [...]
Mid-morning games left us with no shortage of drama or [...]
Games tipped off with high anticipation. Teams know that a [...]
It was a gorgeous start to the morning in Wichita, [...]
The sun is hanging low and orange in the sky, [...]
The 6:20pm games have been very intense, as teams are [...]
The 5:10pm games continued to carry the intensity from the [...]
If the first hour of games for the NIRSA National [...]
Saturday 10am games are on schedule. Please check in at [...]
To all: Please review schedules for tomorrow. Due to potential [...]
Day 2 is over at the 2018 NIRSA National Soccer [...]
Women's Championship Consolation Semifinals Virginia defeated Texas A&M 2-0. Kansas [...]
Women's Championship Quarterfinals Clemson and Colorado played an enthralling match. [...]
FOR OFFICIAL RESULTS please visit: http://play.nirsa.net/soccer/national-championship-results/. Please confirm all results on website and [...]
FOR OFFICIAL RESULTS please visit: http://play.nirsa.net/soccer/national-championship-results/. Please confirm all results on website and [...]
Getting closer to the final... Women's Championship Quarterfinals Illinois and [...]
Men's Open Quarterfinals '17 semifinalist San Diego State will not [...]
FOR OFFICIAL RESULTS please visit: http://play.nirsa.net/soccer/national-championship-results/. Please confirm all results on website and [...]